At the end of each Round, there are three Pro Rider winners, and three players who win prizes.

The winning Pro Riders are simply those in the top 3 spots under "LIVE ROUND X RIDER TOTALS" on the Fan World Championship screen here: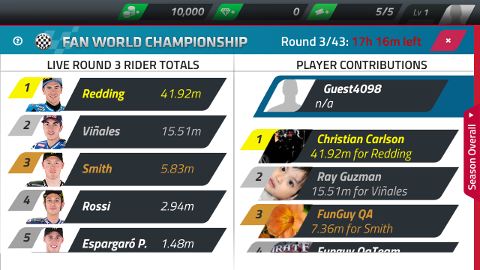 Let's say that Round 3 ended with the results you see above:


Redding is the 1st place pro rider, and the player who had the highest score for Redding is the 1st place prize winner for the round. You can see who is currently has the highest score for Redding by pressing his entry on this screen.

Likewise, the 2nd place prize winner will be the top scorer for Vinales.
Likewise, the 3rd place prize winner will be the top scorer for Smith.

You can watch which players are getting the highest scores and who they are racing for, by looking at the table on the right, "PLAYER CONTRIBUTIONS." These are not necessarily the winners of the round, they are just the players who are scoring the highest so far to any pro rider.

What do you win if you win a Fan World Championship Round?
Each of the three player winners explained above win a Commemorative Digital Certificate and a Tshirt however if you wish to claim the TShirt you must pay USD$10 for shipping and handling.
How do I claim my prize if I won?
If you are a winner, you will receive a message in your MotoGP Inbox. You can find the Inbox by pressing the red and white menu button in the upper left corner and then pressing "INBOX."
This message will ask you for your email address and postal information.
You'll be required to send us this information by replying to the message within 5 days. If you do not contact us within 5 days your prize will go unclaimed.
Once we receive it, you will get a confirmation email stating that your prize is being processed.
Next, you will receive a second confirmation email once your prize has been shipped, along with its tracking number.

Please allow 1-2 weeks to receive each confirmation message.

If you would like to contact live ops customer support directly for any reason, you can reach us at fans@championshipquest.com